Culture and life at iCIMS
Innovators. Collaborators. Game changers.
Who we are shapes how we work and how we support each other. As a team of innovators, collaborators, and gamechangers, we acknowledge that we are human beings with unique talents and vibrant lives working together in a global community.
A foundation of shared values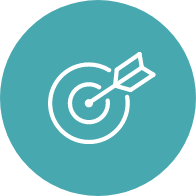 Purpose
We focus on the big things that move the business forward
Customer-obsession
We invest ourselves in our customers' success
Innovation
We encourage bold thinking on a global scale
Inclusion
We respect diverse perspectives and backgrounds
Velocity
We move fast and keep it simple
Accountability
We own outcomes for customers and colleagues
#LifeatiCIMS
iCIMS in the community
Through iCIMS Gives, we offer employees a paid day to volunteer for their organization of choice. We also support a variety of employee-driven causes including environmental protection, disaster and health crisis relief, hunger prevention, and racial justice. We give space for our employees to contribute their time, money, and goods, and we donate to the causes they are passionate about on their behalf.
Didn't see your dream role today?
Join our talent community for email updates with our latest opportunities, career events, and company news.
Sign up!
Interested in learning more about joining iCIMS?
Here's how we hire.